holistic management of emerging forest pests and diseases
Modern ways to detect fungal pathogens in woody plants
HOMED has newly conducted a study on the fast and reliable molecular methods for detection of fungal pathogenes in woody plants.

Plant diseases caused by pathogenic microorganisms represent a serious threat to plant productivity, food security, and natural ecosystems. An effective framework for early warning and rapid response is a crucial element to mitigate or prevent the impacts of biological invasions of plant pathogens. For these reasons, detection tools play an important role in monitoring plant health, surveillance, and quantitative pathogen risk assessment, thus improving best practices to mitigate and prevent microbial threats. The figure below shows the molecular detection methods in woody plant pathogens over time.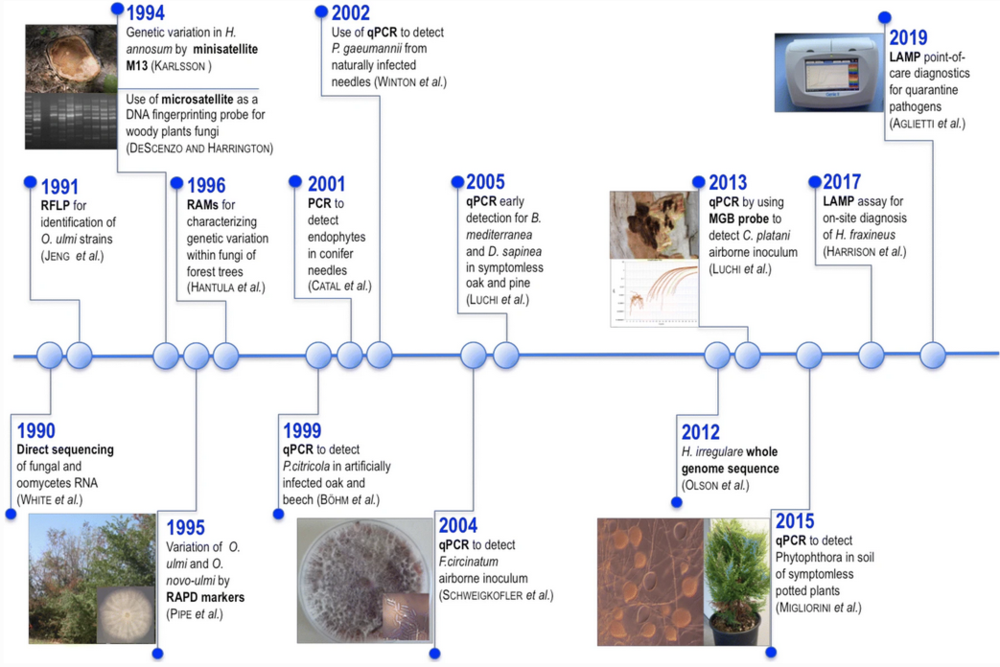 Timeline of molecular detection methods in woody plant pathogens
The need to reduce the time of diagnosis has prompted plant pathologists to move towards more sensitive and rapid methods such as molecular techniques. Considering prevention to be the best strategy to protect plants from diseases, this review focuses on fast and reliable molecular methods to detect the presence of woody plant pathogens at early stage of disease development before symptoms occur in the host. A harmonized pool of novel technical, methodological, and conceptual solutions is needed to prevent entry and establishment of new diseases in a country and mitigate the impact of both invasive and indigenous organisms to agricultural and forest ecosystem biodiversity and productivity.

Read the publication here.