holistic management of emerging forest pests and diseases
Volatile organic compounds (VOC) - biomarkers for detection of Ceratocystis platani
HOMED researchers report on the use of a volatile organic compounds (VOC) blend for the detection of a quarantine plant pathogen. It shows that VOC fingerprinting could represent an innovative method to help phytosanitary services in rapid surveying of plant consignments at ports of entry by sampling the air within a container where plants have been stored.
Ceratocystis platani causes canker stain of plane trees, and it represents a serious disease of Platanus spp. both in the United States and Europe. Current chemical or biological controls do not effectively manage C. platani, so new preventive methods need to be developed in order to limit this pathogen spreading.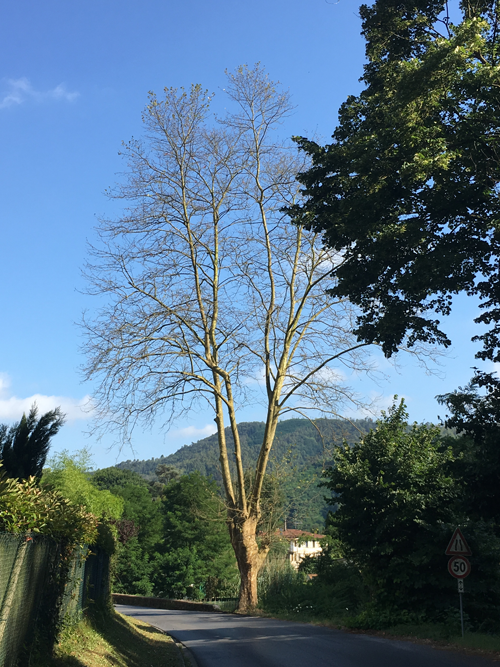 In this study, researchers have characterized the main VOC emitted in vitro from pure cultures of C. platani and other common pathogenic fungal species of hosts plants growing in the same ecosystems as plane trees. We found that C. platani emitted a similar blend of VOC compared with phylogenetically similar species C. populicola . In particular, C. platani was characterized by emission of isoamyl acetate and isobutyl acetate while C. populicola by ethyl acetate and isobutyl acetate, which were not released by any of the other out‐group fungal species grown on the same medium. Moreover, following a targeted approach based on the main VOC found in vitro, we have successfully validated in vivo that VOC uniquely emitted by C. platani (i.e. isobutyl acetate along with isoamyl alcohol) were released from the bark of plane trees following C. platani inoculation. The results highlight the possibility to exploit VOC emitted specifically by C. platani as biomarkers to recognize Platanus x acerifolia plants infected by this pathogen.
Read the full paper: https://doi.org/10.1111/efp.12618.