holistic management of emerging forest pests and diseases
At your fingertips: HOMED's Legacy brochure
Since 2018, HOMED partners have been joining forces to better understand and manage forest pests and tree pathogens. And although four years may not seem like a lot, thanks to their prolific research collaboration, project partners were able to make the most out of them. Despite the fact that there still is a long road ahead of us when it comes to forest health, HOMED is proud to have left its mark, hopefully helping future researchers and practitioners. In that spirit, HOMED published a dedicated project Legacy brochure, commemorating the hard work of all its members.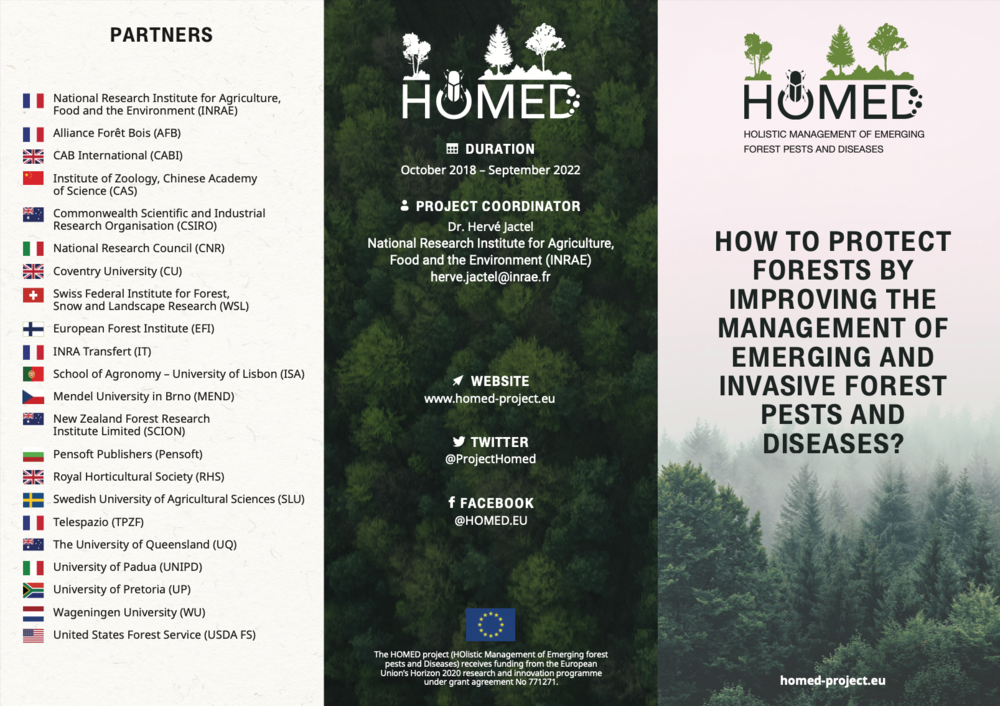 HOMED's Legacy brochure
Albeit concise, the Legacy brochure provides a glimpse of what was accomplished in the last four years – over 60 scientific publications, 9 tools, 6 policy briefs, 6 educational videos, 15 practice abstracts and 10 graphical abstracts… But first, how did we get here?
The challenge
In the last decades, a growing number of introduced non-native pests and pathogens (PnPs) have been causing dramatic losses to European trees and forests, which provide many goods and services and are vital for human well-being.
HOMED's solutions
By adopting a holistic and multi-actor approach, HOMED developed a comprehensive panel of scientific knowledge and practical solutions for the management of PnPs threatening European forests. The project considered the full path of emergence or invasion and developed tools and knowledge adapted to each phase.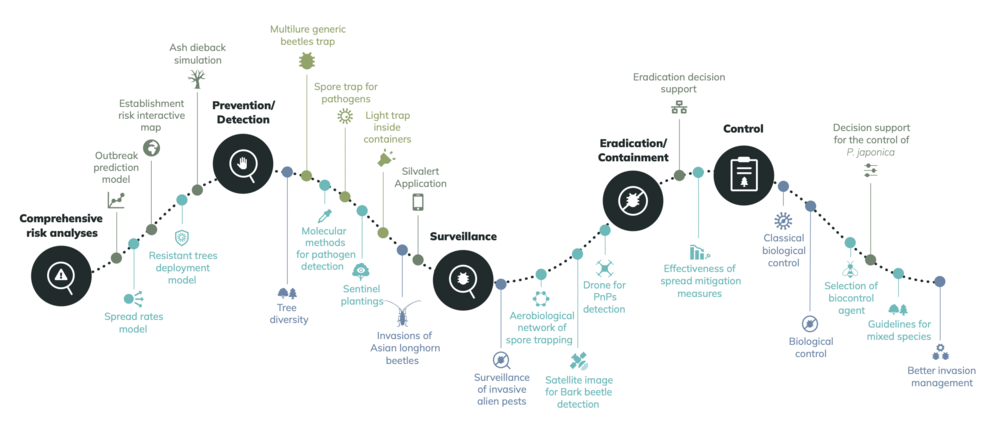 HOMED's Knowledge Hub
Download the HOMED Legacy brochure here.
Access all of HOMED's scientific outputs here.